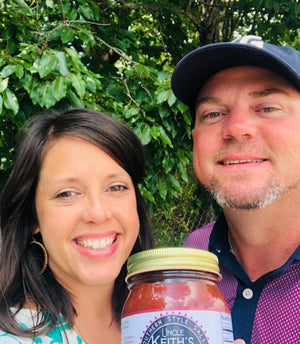 Meet Uncle Keith and his boss Aunt Robyn
We love to entertain and when we do, our friends and family insist on Uncle Keith making his Red Sauce.
Now, you can enjoy Uncle Keith's Red Sauce too. "It's good y'all!"
About
Aside from the story printed on the side of our jars, the beginning of our journey to sell salsa came from being surrounded by wonderful friends and family that encouraged and brainstormed with us on how to produce something that they truly believed would be a success on the shelves, not only locally, but nationwide. 


After 5 years and making 5 1/2 cup batches in our small Black and Decker food processor, we finally decided to get serious about finding a contract packager to help us convert our small community business to a full-sized operation. Many people along the way helped us turn our dream into a reality. Our across the street neighbor volunteered his graphic design expertise and time to help make our logo come to life. Then, a dear friend's cousin added some finishing touches and now, "it's good y'all."  Our amazing friends and family spent countless hours helping us figure out how to spread the word about our new business. All done with a genuine desire to see us succeed and for a guaranteed payment of….you guessed it, salsa. As a result of the efforts from our community, coupled with Keith's skills in sales and marketing, we were able to form relationships with local businesses which gave us a platform-outside of hand delivering salsa.


Each member of our little family joined in to get our salsa onto the shelves and believed wholeheartedly in the product that we were sitting on doorsteps and selling out of Keith's office. After all, running out of salsa at our house was about as bad as running out of sweet tea. It has been a journey based on stepping out in faith and believing fully that if it isn't God's will, we will never wonder, what if?